Super Bowl Prop Bets
SportsMemo wants to add a little more excitement to your Super Bowl party by breaking down all the prop bets available and grabbing some free NFL picks. JM Sports gives Super Bowl Prop Bet insights ahead of The Big Game on February 13. Download our Super Bowl 56 party props sheet for some easy-to-do, easy-to-follow games to keep everyone engaged from the coin toss to the final whistle.
Stay on top of the latest NFL updates direct from Las Vegas!
Players to Score Touchdown
(All odds courtesy of Caesars)
Predictions:
Ja'Marr Chase & OBJ both score TD's (+275)
Cooper Kupp & OBJ both score TD's (+200)
Ja'Marr Chase has had one of the most incredible rookie seasons by a wide receiver in recent memory. He has added a massive weapon for his college teammate in Joe Burrow, and Burrow has taken advantage of a familiar target this season.
In the regular season, Chase has 21.1% of Cincinnati's receptions, over 30% of their yards and accounted for over 36% of Cincinnati's receiving TD's! Never mind the fact that he caught 13 TD's, that percentage proves a definitive #1 marker next to his name on the depth chart, and a clear #1 target for Joe Burrow.
Regardless of the way the points were scored, Ja'Marr Chase has accounted for 17% of the Bengal's points in the regular season, behind only Joe Mixon (honorable mention!), but the team has shifted towards the shoulders of Chase down the stretch.
On the Los Angeles Rams side, Cooper Kupp & OBJ are playing like two WR's that could be leading any team in the league. Surprising with the way OBJ started his season… regardless of who was at fault in his prior situation this season in Cleveland.
Cooper Kupp has been the obvious go-to for Matthew Stafford this year, completing the triple crown title at the WR position. Kupp caught almost 36% of all receptions for the Rams this year, had just under 40% of their receiving yards and caught over 39% of the receiving TD's thrown by Los Angeles.
The way the team has played through the air has shown a slight favoritism for the pass game, over the run game, especially down the stretch. I expect LA to put up multiple passing TD's and since OBJ has joined the team, that has given them more options.
OBJ has been on the team for 11 games so far, eight regular season games and three playoff games, and in those 11 games he has accounted for almost 18% of receptions, 18% of receiving yards and 25% of the receiving TD's. Beckham has very quickly found a role as a reliable #2 for Stafford and a viable option for a TD if Cincinnati chooses to direct their focus towards Cooper Kupp.
Will there be at least 1 TD in every quarter?
Prediction: Yes (+130)
Looking at this prop, most things I found actually support the underdog! Let's look at the Bengals, during the regular season, Cincinnati either scored or allowed at least one TD in 75% of the 68 quarters they played this year, going without a TD in just 17 quarters.
The Los Angeles Rams were very similar, they either scored or allowed at least one TD in 77.9% of their 68 quarters! Scoring (or allowing) a TD in 53 out of 68 quarters during the regular season.
The trend has continued in the playoffs so far, in the 12 playoff games (48 quarters) teams have put up a TD in 77.1% of those quarters, leaving just 11 quarters without a TD.
These offenses are explosive and riddled with weapons, I expect a high scoring game and 1 TD a quarter definitely isn't out of the question for these two teams, whether that be offensive or a TD from the defensive side of the ball.
Jersey Number of the First Rushing or Receiving Scorer
Prediction: #1 – #9 (+200)
#1 – #9 (+200)
CIN: Ja'Marr Chase and Joe Burrow
LAR: O'dell Beckham Jr. and Matthew Stafford
#10 – #20 (+250)
LAR: Cooper Kupp and Van Jefferson
#21 – #30 (+250)
CIN: Joe Mixon
LAR: Cam Akers and Sony Michel
#31 – #40 (+2500)
CIN: Samaje Perine
#41 – #83 (+1600)
CIN: Tyler Boyd
#84 – #99 (+400)
CIN: Tee Higgins, CJ Uzomah and Drew Sample
LAR: Kendall Blanton and Tyler Higbee
Both of these teams have an unbelievable amount of weapons on the offensive side of the ball, but when you look at the jersey numbers, 1-9 is full of weapons. The first question, is do you believe the first score will be through the air or on the ground.
If you do believe the first TD will be a rushing TD, don't ignore the fact that the 1-9 margin gives you both quarterbacks on the chance that Stafford runs in his 3rd TD this postseason, and while Burrow isn't exactly the biggest threat to run the ball, having options is always a good thing.
This range of numbers also holds two of the three biggest weapons to catch a receiving TD this game, OBJ & Chase are both feasible options as we look back on the seasons this teams had through the air, which has my interest peaked.
Then you have a major WR threat on both sides of the field in Ja'Marr Chase and OBJ. When the season opened, I would find it hard to believe that there were too many people, if any, that would have said that OBJ would be playing in the Super Bowl for the Los Angeles Rams against one of the most impressive rookie WR's in recent memory for the Cincinnati Bengals.
Yet, that is exactly what is happening, and not only is that true, but these are two of the three biggest threats in the game at the wide out position.
In the last 11 games (eight regular season ; three postseason), since Beckham has joined the Rams, he has accounted for 25% of their receiving TD's, catching 24 touchdowns, of the 96 passing TD's in the previous 11 games.
On the Bengals side, Ja'Marr Chase as obviously solidified his spot as the Bengals go-to wide out, especially alongside ex-teammate, Joe Burrow.
Chase has accounted for over 36% of the Bengals receiving TD's, a massive percentage of the touchdowns through the air for Cincinnati.
Not only, has Chase scored a massive percentage of the points through the air, but he has accounted for 17% of the total points scored for Cincinnati this season. Whether the first TD comes from the Bengals or the Rams, this chunk of jersey numbers gives you the most viable options to put the first one in the end zone.
Team w/ longest made field goal?
Prediction: Cincinnati (-115)
There is no arguing that Matt Gay was by most definitions a clutch kicker this season, the postseason has been a little bit of a different story. There is no question that the Rams trust him to kick, but how much faith does Los Angeles have in him in the playoffs and from distance?
Matt Guy may have hit 32 of his 34 field goals in the regular season, but missing two already in his nine attempts in the playoffs! On the season, Gay's average made field goal was 37.2 yards, but his average attempt was 38 yards.
Whether that means, Los Angeles's offense has continued to put him in close proximity for his attempts, or they don't trust him kicking from distance consistently, but the playoffs haven't changed much where his average make is just 35.7 yards, and his average attempt has been 39 yards.
McPherson on the other hand, has been slightly less consistent than Gay on the season, but in the playoffs he is perfect thus far.
On the season though, McPherson hit from a long of 58 yards, and in the playoffs he put in a 54 yard kick, while Gay's longest FG on the entire year is just one yard longer than what McPherson hit in the playoffs.
McPherson also has 20 attempts from beyond 40 yards, while Gay only attempted 13 kicks over 40 yards, and in comparison McPherson's average made field goal was almost 41 yards in the regular season, while averaging almost 42 yards per attempt this year.
Regardless, McPherson has continued to hit from distance, and whether Cincinnati is struggling to get the ball close enough to score, or Cincinnati has a lot more trust in McPherson from distance, he has gotten the opportunity to kick longer FG's and has hit them from distance at a noticeably more consistent rate then Gay and the Rams.
Will the last play of the game be a QB rush?
Prediction: No (+180)
This is obviously assuming the fact that the game ends in the winning QB taking a knee, or the books cash in if its a scramble or designed run for the QB.
While it seems like a common occurrence for a winning QB to take a knee, there has only been one QB to end a Super Bowl with a knee in the last 10 years.
While, that QB may have done it three times, Tom Brady is the only QB to close out the Super Bowl in the victory formation. In this season alone, the competition has been tight and the games have been exciting, just three of the 12 playoff games this season has ended in a QB taking a knee.
That means 75% of the playoff games this year have not ended with a QB run & 70% of the Super Bowls in the last 10 games have not ended in a QB run.
Super Bowl Party Props
There are many Super Bowl prop bets that require some knowledge. There are a few Super Bowl betting activities are are completely based on luck. Our Super Bowl Party Props Sheet is a nice mix of randomness with a handful of questions that require a little thought. The concept is simple and is easy for you to participate in:
Download and print out your Super Bowl 56 Party Props Sheet.
Pass out to everyone interested in playing at your Super Bowl Party. You determine if there is an entry fee and payouts.
All you and everyone else have to do is circle your choices for each prop bet, and since almost all of them are a toss up, it does not require someone to be a football fanatic or understand sports betting to participate.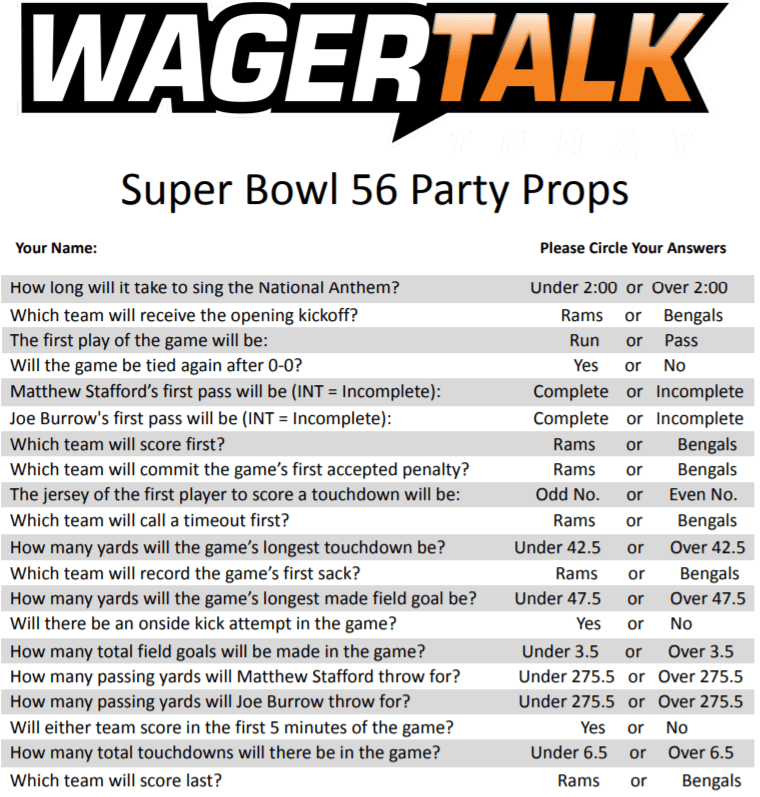 Ready to place a bet on The Super Bowl? FanDuel is offering a $1,000 Risk-Free Bet for first-time bettors in New York, Arizona, New Jersey, Pennsylvania, West Virginia, Indiana, Colorado, Iowa, Illinois, Tennessee, Michigan,Virginia and Louisiana.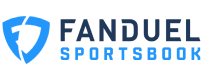 Super Bowl 56 | Rams vs Bengals
The Tampa Bay Buccaneers became the first NFL team to win the Super Bowl in their home stadium last season and the Los Angeles Rams will attempt to become the second this Sunday.
| Super Bowl 56 |  Betting Notes |
| --- | --- |
| Date: | Sunday, February 13 |
| Time: | 6:30pm ET / 3:30pm PT |
| Location: | SoFi Stadium in Inglewood, California |
| Opening Point Spread: | Los Angeles Rams -4 vs Cincinnati Bengals |
| Total: | 48.5 Points |
| National Anthem: | Mickey Guyton |
| Halftime: | Eminem, Snoop Dogg, Dr Dre, Mary J Blige and Kendrick Lamar |
Super Bowl Prop Guide
Want to impress your friends with some Super Bowl prop knowledge? WagerTalk handicapper Ralph Michaels just put the finishing touches on his Super Bowl 56 Prop Guide, complete with historical results from past years, stat logs for the Rams and Bengals, and the most-frequent point combinations for Super Bowl squares.
The team to score first has won the game eight of the past 12 years.
There has been a defensive or special teams TD in six of the past 12 years.
The team that has won the coin toss has chosen to kick off 11 straight years
There has been a score in the last two minutes of the first half in eight of 12 years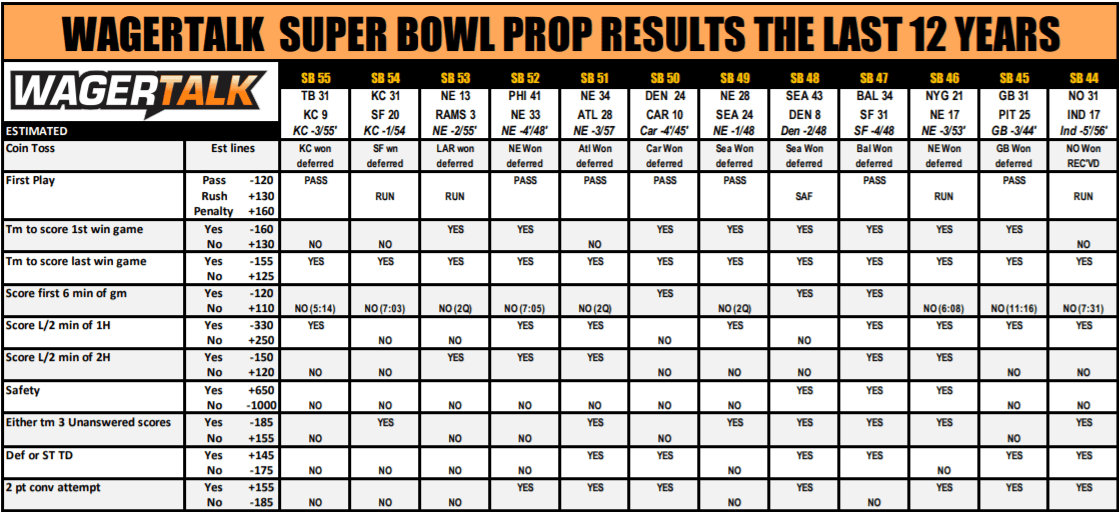 | Super Bowl 56 |  MVP Odds from Caesars Sports |
| --- | --- |
| Matthew Stafford | +120 |
| Joe Burrow | +220 |
| Cooper Kupp | +700 |
| Ja'Marr Chase | +1200 |
| Odell Beckham Jr. | +1600 |
| Aaron Donald | +1800 |
| Joe Mixon | +2500 |
| Cam Akers | +3000 |
| Tee Higgins | +4000 |
| Von Miller | +4000 |
Interested in placing a bet on Super Bowl 56? Caesars Sports is offering up to a $1,500 match bet for first-time deposits in New Jersey, West Virginia, Colorado, Indiana, Iowa, Michigan, Virginia, Tennessee, Arizona, New York and Louisiana.
Opening Line Report
In this week's edition of The Opening Line Report, Teddy Covers and Drew Martin provide updates on the Super Bowl 56 betting market. How can bettors take advantage of the hundreds of prop betting opportunities available, and how can we expect the betting market to move over the next six days? Join Teddy and Drew for this informative betting exercise.

Sportsmemo Live Odds Screen
Sportsmemo's live odds screen features up-to-the-minute lines from a variety of offshore and domestic sports books. Track the Super Bowl 56 point spread, total, first half lines and team totals from your desktop or phone.

**************************************************
Looking for more free sports picks and sports betting tips?
Latest Betting Odds and Public Action: Live odds updated in real time, including who the public is betting on.
Last Minute Handicapping Advice

: Check out our extensive library of

handicapping tips

to help you become a better sports bettor. Wee also recommend browsing through our

sports betting tips video library

.

Want an expert opinion?

Check out the latest

Free Sports Picks

and

Best Bets

from our team of expert sports handicappers.
Make sure to bookmark all the above!
«
»